---
WORLDMAP BASICS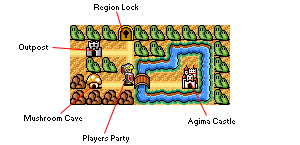 On the world map, you control your party (not single characters and you can't split your party).
You can move your party on the worldmap, check your partys status, change equipment, look for events and more.

In the above situation you could check out whats up in the Mushroom Cave or go shopping in Agima Castle.

The most important point here is finding events. A event consists of a short story and a BATTLE.











---
BATTLE TACTICS